Home
ROSS EDWARDS – COMPOSER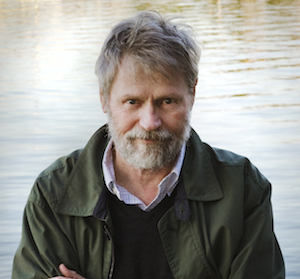 Ross Edwards – Photo by Bridget Elliot
One of Australia's best known composers, Ross Edwards has created a distinctive sound world which seeks to reconnect music with elemental forces and restore its traditional association with ritual and dance. His music, universal in that it is concerned with age-old mysteries surrounding humanity, is at the same time deeply connected to its roots in Australia, whose cultural diversity it celebrates, and from whose natural environment it draws inspiration, especially birdsong and the mysterious patterns and drones of insects. As a composer living and working on the Pacific Rim he is conscious of the exciting potential of this vast region.
Ross Edwards' compositions include five symphonies, concertos, choral, chamber and vocal music, children's music, film scores, a chamber opera and music for dance. His Dawn Mantras greeted the dawning of the new millennium from the sails of the Sydney Opera House in a worldwide telecast. Works designed for the concert hall sometimes require special lighting, movement, costume and visual accompaniment – notable examples are his Fourth Symphony, Star Chant, premiered by the Adelaide Symphony and Richard Mills at the 2002 Adelaide Festival; the Oboe Concerto Bird Spirit Dreaming, which Diana Doherty premiered with the Sydney Symphony and Lorin Maazel, subsequently performing it with the New York Philharmonic and many other orchestras around the world; and The Heart of Night, for shakuhachi and orchestra, composed especially for shakuhachi Grand Master Riley Lee and the Melbourne Symphony. Recently completed commissions include Sacred Kingfisher Psalms for The Song Company, Ars Nova Copenhagen and the Edinburgh Festival; a Piano Sonata for Bernadette Harvey commissioned by the Sydney Conservatorium; Full Moon Dances, a saxophone concerto for Amy Dickson, the Sydney Symphony and the Australian symphony orchestras; Five Senses, a song cycle to poems of Judith Wright; The Laughing Moon for the New Sydney Wind Quintet; Zodiac Dances, a ballet score for Stanton Welch and the Houston Ballet; and his String Quartet No. 3,Summer Dances, for the Hungarian Kelemen Quartet, commissioned by Kim Williams for Musica Viva Australia. He is currently working on a double concerto for the saxophonist Amy Dickson and the percussionist Colin Currie commissioned for the Sydney Symphony Orchestra's 2016 season. His recently completed Harp Mantras opened the World Harp Congress held in Sydney in July 2014.
Ross Edwards' scores are available worldwide through the Australian Music Centre. info@australianmusiccentre.com.au
Hire material from Hal Leonard Australia.