The University of Sydney's Conservatorium of Music was very pleased to present the David Harold Tribe Symphony Award for 2016 to Australian composer Professor Ross Edwards AM on Thursday 27 October.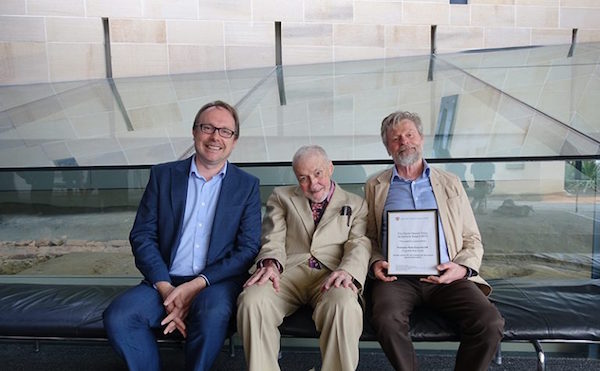 Professor Matthew Hindson, Mr David Harold Tribe, Professor Ross Edwards AM
The $12,000 prize for a new symphonic composition of 20 minutes or more was awarded to Ross for his piece Frog and Star Cycle, a double concerto for alto saxophone, percussion and orchestra written in 2015. The judging panel consisted of the Conservatorium's Associate Dean (Education) and Head of School Professor Matthew Hindson, Dr Maria Grenfell (University of Tasmania) and Professor Stuart Greenbaum (University of Melbourne) were extremely impressed with the high quality of applications.
"The quality of the submissions received points to a bright future in Australian orchestral music. The panel agonised long and hard about each applicant's piece, the winning work was characterised by an intriguing approach to diverse forces and possessed a consummate command of technical forces and musical ideas," said Hindson. "Frog and Star Cycle has a strong, unified structure but with a significant variety of approaches including strong narrative aspect and an unmistakable unique musical voice at play."
"I'm honoured to receive this award for my double concerto Frog and Star Cycle and thankful to David Harold Tribe for his generosity towards the arts in our country," said Edwards.
The award has been made possible by a donation from David Harold Tribe through the David Harold Tribe Charitable Foundation. The program offers five prizes worth $12,000 each in the areas of fiction, poetry, philosophy, sculpture and symphony. These categories rotate each year to inspire ingenuity in artistic fields that are often overlooked when it comes to charitable support.
"The David Harold Tribe Awards, administered and judged by the University of Sydney, cover the relatively neglected fields of symphony, sculpture, philosophy, poetry and short fiction," said Tribe.
"It's my hope that these educational awards for specific creative achievement in the recent past will stimulate and in some cases, perhaps, make it possible financially for the recipients to continue their creative output."
View the original article here.
Read more